You might be getting the results you want – in the short term. But how is morale? How about turnover? Job satisfaction? Burnout? And what does all that mean for long term results? Job measurement – Which activities are getting priority? What are more successful individuals doing that others are not? How do they compare to others? What activities should be automated or delegated?
Here are the areas that we can improve:
Standards – How long does it take to process a mortgage, complete a sale, or process a claim?
Barriers to productivity – What gets in the way of maximum productivity?
Benchmarking – What standards can be established for jobs and tasks?
Time management – What training opportunities exist for better individual effectiveness?
Performance Improvement – How can Individuals improve their own results, once they see their private data?
Business case development – Which strategies for process improvement should be pursued, based on the results?
We show organizations how their employees can gain an extra hour per day for their top priorities
Any time you gather data, you need to put it into perspective. If employees spend 10% of their time on a particular task, is that a lot? A little? Is it good? Not good enough?
We use all kinds of tools to put our time study data into perspective:
We compare to ideal expectations. At the start of a time study, we ask employees for their "ideal expectations" on the activities they'll be tracking. They are the experts. They know the job best. And they know what it should look like. Then we see how the actual results compare.
We look at top performers. In a sales force, some reps sell more than others. How do they do it? There is a time component to what they are doing well. We gather sales results and report on them anonymously to show what a group of top performers does more effectively than a group of lower performers. This has a profound impact on training, territory management, automation, and much more.
This chart shows a sales organization where top performers spend more time on planning, selling, and customer admin while spending less on general administration and travel.
We look at demographics. Is one region doing better than another? Do veterans outperform rookies? Does span of control make a difference? Some sales managers oversee large groups, making coaching more difficult. We can find out the differences that count. 
We look at industry best practices. Usually, we've tracked another job that is similar, or we've covered another industry that is similar. Our particular strengths are in sales and service employee, financial services, oil and gas, utilities, and wholesale distribution.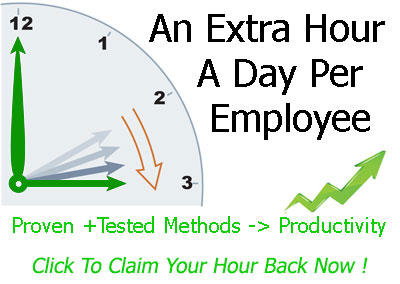 Client Testimonial
"Hello, just a quick note to say I enjoyed using the TimeCorder® and I am really looking forward to the results. The experience has made me very time conscious, which is a good thing!! I also enjoyed your book; you get the point across really well. Enjoy your day."
Laura Maharaj
Bank of Nova Scotia
Personal Banking Officer